The yuii training programme especially for new and young leaders
The yuii Young Leadership Camp is our training and development process specifically for young and new leaders. The camp combines two to four training modules – each a two-day training on a specific topic – with individual feedback sessions and business coaching over a period of two to six months.
In the trainings, we share the knowledge and tools that new leaders need to lead teams in a motivating, clear, efficient and authentic way.
Personal business coaching sessions for all participants ideally complement the process.
For young leaders who want to gain orientation and security in their new leadership role
For new managers who want to learn the most important leadership tools in a compact format
For new leaders who are transitioning from employee to leader
Camp goals and contents can be tailored to suit your needs. Here are some content examples:
What does leadership mean? What does a leadership role entail?
What are the different leadership personalities and styles?
Intensive self-reflection: Where do the young leaders currently stand, where does their understanding of leadership come from?
Giving constructive and motivating feedback
Practicing challenging communication situations, with personalised video feedback for the young leaders
Basic knowledge about leading teams
Establishing a positive error culture: recognising potential in conflicts and risks, openness to new experiences
Present ideas and decisions in a convincing, credible and stimulating manner
Leadership and change: stabilising and motivating employees in uncertain times
Motivational and educational talks
Group work
Simulations, role-playing and business games
Structured discussions and sharing experiences
Games and exercises from applied improvisation
Camp content and modules can be individually designed and combined. The Business Coaching sessions are optional. A camp consists of at least two modules.
Training offers are specially tailored to your wishes and needs

Remote or on-site, also possible in-house

You choose the format, content and focus.

We will confirm locations, dates etc. individually.

Transparent, individual training concept

Handouts, photo documentation and a yuii certificate of participation for all participants

The training can be complemented by additional individual coaching.
Two intensive training modules of two days each in a mixed group (young managers from different companies)
Main topics: Orientation in the new leadership role & own leadership personality, team leadership, communication skills for leaders.
Included: 3 x 1-hour business coaching sessions per participant

In the sessions we analyse challenges from the young leaders' current professional lives and find individual ways to achieve their goals.

Price: 2,500 euros per person plus. VAT
Inspiring training rooms in Berlin.
Small groups for maximum success (maximum eight participants)
Detailed individual feedback for each participant
Seminar drinks and snacks included
Photo documentation and yuii certificate of participation
Further information by email or phone
---
Next date:
Module 1: Me & my leadership personality
on request
Module 2: Me & my team communication
on request
If the event cannot be held as a live training due to the pandemic, the training will be held virtually.
What our participants say
What is special about yuii? Firstly, very personal and individual communication. Secondly, content tailored to us. And thirdly: employees who came out of a training session euphoric and full of energy!
Anja Kabakeris
Talent Management – Aperto GmbH
Madeleine and Sabine from yuii took plenty of time for the preparation and structured the Young Leadership Camp in a way that fit perfectly with our corporate culture. Our leaders have benefited from a very interactive training. The impro business games made a particularly strong impression. Participants' wishes were responded to flexibly and enough time was left for personal exchange, which additionally underlined the relevance for their own leadership work. In addition, our managers have benefited greatly from individual coaching. This is exactly how we imagined the leadership training. A very big thank you!
Anja Kettern
Team Success Igniter – DCMN GmbH
We are loyal customers of yuii business training! In addition to trainings on the topics of time and self-management, communication and presentation, we already conducted the "Young Leadership Camp" with yuii on a number of occasions. The participants are enthusiastic about individual work, agile methods, the trainings' practical relevance and the trainers, who convey their content with great professionalism and passion. Working with yuii is uncomplicated, personal and fun. We are very happy to recommend yuii, especially in the area of leadership development!
Anjuli Hesse
Head of HR – Flaconi GmbH
We were absolutely convinced by yuii's work. We trained the whole management team and the feedback was unanimously positive. We particularly liked the constructive cooperation and the confident delivery of learning content with a high level of practical relevance. yuii's experience in the online environment has contributed a lot to the understanding of our processes and corporate culture.
Lars Schmidt
Vice President Global HR – Auctionata AG
yuii is always my first stop for management training and coaching. Our participants are always very satisfied and working with yuii is a dream!
Vera Termühlen
Head of HR – Outfittery GmbH
Interested? Contact us – we will be happy to prepare an individual offer for you.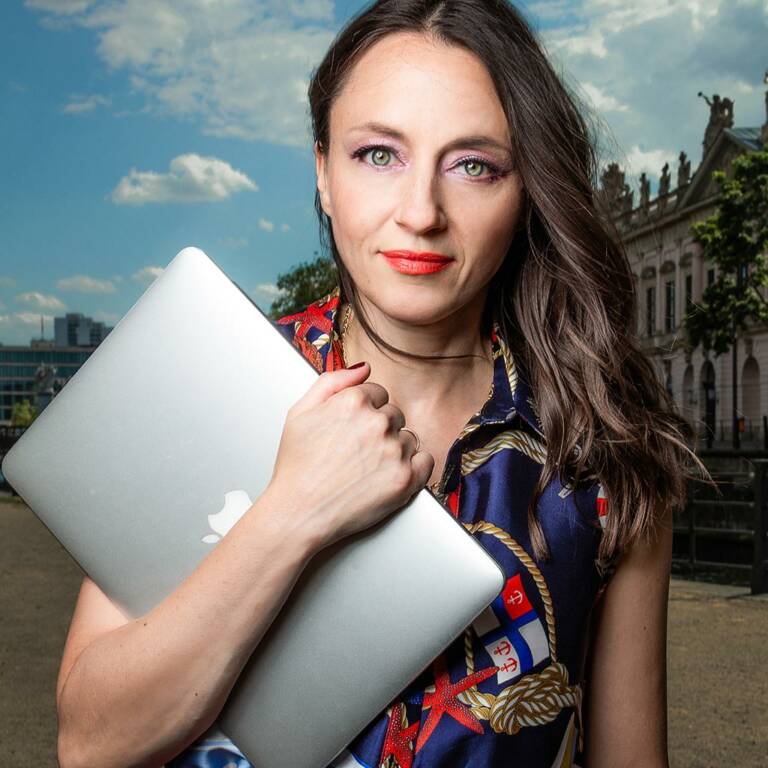 Successful leadership from a distance
Shaping your own leadership role